It's getting cold here in California!! And I picked up some sherpa lined suede a while back just for coats. So what better day to start making coats? I'm making 2 of these coats, 1 for my daughter, and 1 for my best friends daughter. Olivia's coat is in pink, and Ailsa's coat is in camel. I'm using simplicity 2778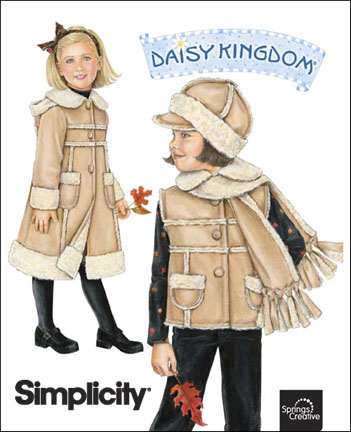 I'm making the coat version, not the vest. Olivia had one just like it last winter, only it was bought for over $30 at Old Navy. This coat cost me $11.97 for a yard of the sherpa lined suede. How great of a deal is that? And I bought the pattern at Joanns for $.99!! Boy do I feel like I got a great bargain. The sizing on the pattern goes from 3-8, so I traced the pieces I needed with tissue paper. Now I'll get to use the pattern again for a few more years!! I have to admit, that tracing the pieces is a bit tedious, but well worth it in the end when I only paid $.99 for the pattern and it has so many sizes.
Can't wait to start! I just finished tracing the pattern out, while the fabric is getting pre-shrunk in the washer and dryer. Now to change the needles and thread out on my sewing machine and get started! Hopefully I make some progress tonight.