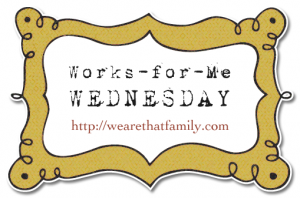 As part of my contribution to what works for me Wednesday, I'm sharing one of my family's favorite dinner's. It's also my go-to recipe for potluck parties :) It's really quick and easy, and I usually make it during the day on days that we have football practice (that means we get home late), because it heats up nicely. Days like today!
I can't find my camera cord, so the picture of our delicious dinner will have to wait until the morning. Here's what you'll need:
1 box of ziti noodles (brand doesn't matter, but I like Barilla)
1 lb of ground hamburger meat
12 oz roll of pork sausage
1 large jar of spaghetti sauce (we use Prego)
1 large white onion
2-3 cloves of garlic (or to taste)
salt and pepper
a brick of mozzarella cheese
Chop onion, and grate garlic (I feel like we taste the flavor more this way, than chopping). Combine onion, garlic, sausage and hamburger meat, and cook in a frying pan until done. Drain off fat. I boil my ziti noodles at the same time as I cook my meat, and drain. Grate mozzarella cheese. Pour ziti noodles in a baking dish, cover with meat mix, and spaghetti sauce. Mix until everything is blended. Cover in cheese, and bake in oven at 325 degrees, until cheese is melted.
Serve with garlic bread, and enjoy! Quick, easy, and cheap :)